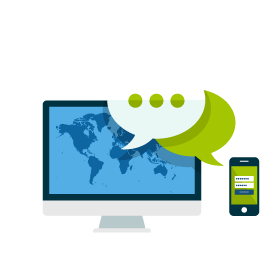 Most of people are using social medias! It is vital to do marketing through social media.
Social media has created a new world of opportunity for businesses to share their voice, opinion and build more personal relationships with their prospects and followers, but on a grand scale. Having a strong social media presence and loyal followers will help you drive massive traffic to your website. This will ultimately increase your brand recognition, sales, and overall popularity. There are thousands of social media websites out there, and we will help you find the ones that will help you create buzz and improve your brand awareness.

The reason YouTube has become so successful for businesses is because in our fast-paced world, people would rather watch a video than read through text. From creating demo videos for your homepage, to producing short advertisements and finding your target audience on YouTube, the team at Developaweb can do it all.
We have the skills to help you setup and optimize your business page professionally, teach you how to use Facebook ad campaigns, and advertise your special promotions and deals to your potential buyers on Facebook.
Having engaging content is the key while using Twitter. Many small businesses are using promoted tweets to target specific leads and demographics, and are able to increase their brand awareness this way.
The reason for using this site is because it is a social media platform that is strictly for professionals looking to make business connections. There are various ways a company can use LinkedIn, but most importantly it's about getting professional recognition from peers within your industry. Our social media team will help you build your professional page, get your employees involve in the company online, place your products and services on your page, and promote them to your potential buyers and business connections.